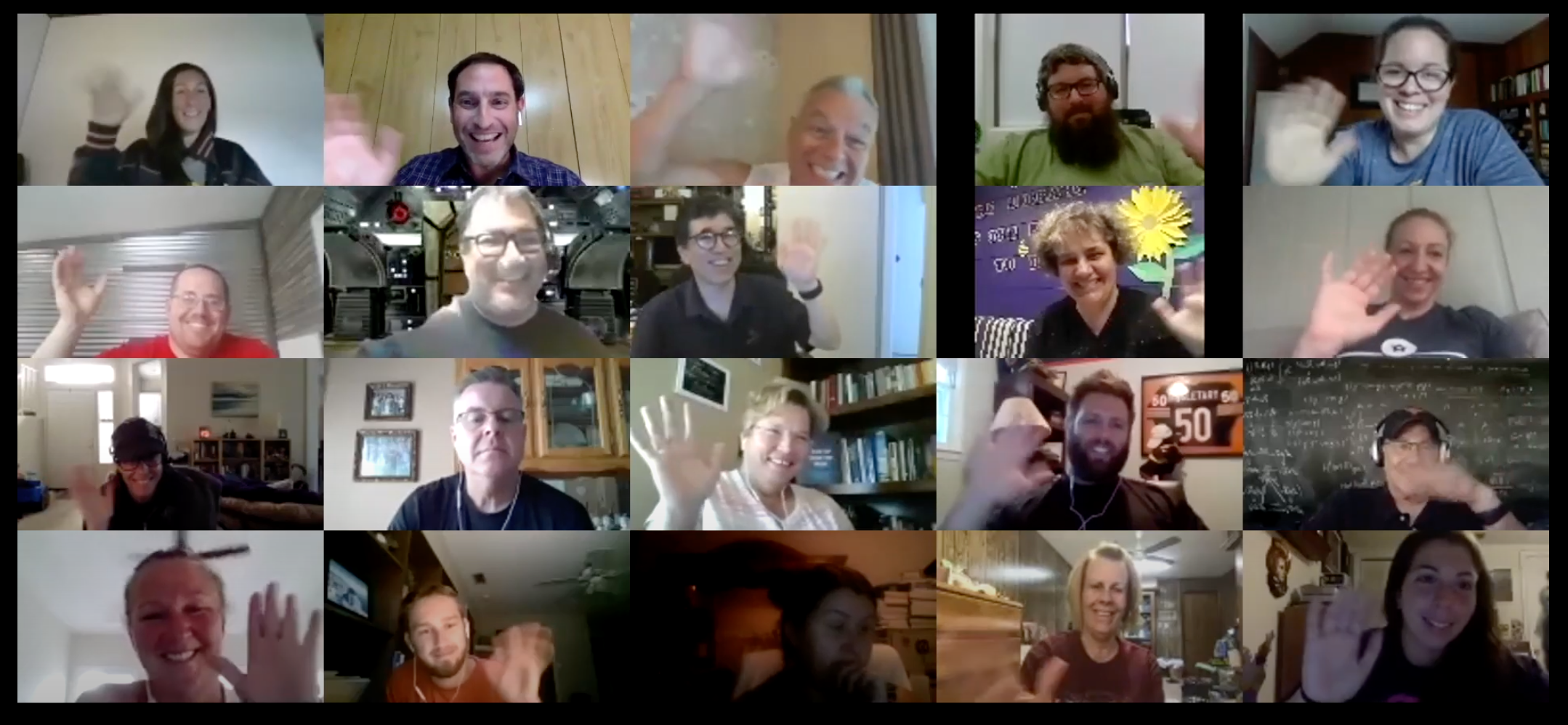 To best prepare teachers for teaching during school closures or shifting to remote or hybrid models of instruction, we have compiled this guide to review the resources available in the UTeach curriculum, as well as additional suggestions for external tools.
Explore resources already available in the UTeach CS curriculum, along with suggestions of external tools and information about our ongoing teacher support, to help you prepare for a variety of learning environments.
Jump to:
Building Relationships with Students and Caregivers
With any course, building strong relationships with students at the beginning of the year is critical — but even more so if it is a student's first course in computer science. Teachers typically need to provide more individual support to students in CS courses, particularly during the instructional units involving programming.
Set clear expectations for how and when students can contact you outside of synchronous class times (it is not necessary or desirable to be available at all times):

Email: Provide students with your email and provide inbox hours when you can be reached by email. Depending on how many student requests you expect to receive, you might consider setting up a request form that guides students to provide all necessary information (e.g., Google Forms) and triggers an email to you each time there is a new response.
Phone calls: We recommend setting up a secondary phone number (e.g., Google Voice) rather than using your personal number to use with students.
Office hours: Set office hours using video conferencing software as directed by your district (e.g., Zoom, Google Meet, or Microsoft Teams).
1-on-1 meetings: Offer students the option to schedule 1-on-1 meetings using an app such as Calendly. These meetings provide an opportunity for building relationships and getting to know students personally.

Connect with students' parents and caregivers, who will play a critical role during remote learning:

Share contact information with parents at the beginning of the school year. 
Start a spreadsheet to track communication and make sure to include parents when sending information about course scheduling, expectations, and timeline.
​Supporting Synchronous Remote Learning
Follow these recommendations regarding which content to prioritize for synchronous learning: 

Use synchronous sessions for all days of the unit project, including the project launch, project workdays, and project presentation. 
Use synchronous sessions for the lessons that lend themselves to delivering content via discussion or group activities.

Establish norms, guidelines, and expectations regarding student participation in synchronous sessions and what role the students will have during these sessions:

Communicate guidelines for technical aspects such as whether students' videos should be on or off and whether they should be muted or not. 
Host a practice session to review collaborative features provided by your platform (e.g., chat, breakout rooms, whiteboard) and methods of feedback (e.g., nonverbal feedback like raised hands or thumbs up).
If you plan to use breakout rooms, provide clear directions and goals for what students should accomplish during breakout rooms. Let students know how you will be monitoring progress and providing support while they are in breakout rooms.

Use digital polls for formative assessment, including entrance tickets, exit tickets, and peer instruction questions. Polling functionality may already be part of your video conferencing platform or LMS. If not, here are recommendations for polling software: 
Consider creating interactive presentations using an application such as Nearpod or Pear Deck to encourage active participation. Existing presentations can be imported into both of these platforms to create more engaging learning experiences. 
Supporting Asynchronous Remote Learning
Create asynchronous assignments in your LMS for students to complete on their own.

All resource documents can be downloaded from Canvas and uploaded into your LMS.
Provide students with direct links to the Student Online Textbook pages in order to ensure they are accessing the most up-to-date version of the course materials. 

Encourage collaboration on programming projects through the online integrated development environments used in the UTeach curriculum:

Scratch: Students can click "Share" on a Scratch project and provide the link to a classmate or the teacher to get feedback or help with debugging. Students cannot work simultaneously on the same project in Scratch, but they can "remix" a project back and forth or have one student programming while sharing their screen on video with another student.
Repl.it: Repls can be shared by clicking share, inviting by username, and emailing or copying the link provided. Unlike Scratch, Repl.it supports "multiplayer" real-time collaboration to allow for pair programming and other forms of student collaboration.

Provide ample support for debugging. Debugging can be the most frustrating aspect of taking a computer science course remotely. Students may have their progress halted by small errors in their program when not programming in a classroom environment.

Teacher support: Encourage students to reach out to you via email or schedule a 1-on-1 session. 
Coding partner support: Students should have a coding buddy who they can turn to for feedback and help debugging their program. Encourage students to connect with one another via video call or video conferencing apps. 
Classroom support: Create a forum for students to share and troubleshoot coding problems. Flipgrid easily allows students to create a screen recording to show their code to other students and to post video responses.
Rubber ducks: Encourage students to try "rubber duck debugging." If they don't have a rubber duck at home, a pet, stuffed animal, or other personal object would be a great substitute.

Use discussion boards to promote discussion and participation. Follow these tips when creating a discussion post:

Use the setting to block students from seeing other responses until they have made their initial response.
Provide an earlier deadline for students to make an initial post responding to the prompt. After the deadline, require students to respond to at least 2 other students' responses by secondary deadline.

Try alternative formats for asynchronous discussion boards beyond traditional written responses. Check whether your LMS supports video and audio discussion posts and explore other online options:
Create your own instructional or tutorial videos (great for "flipped" classes!) using tools such as:

EdPuzzle allows you to add annotations, such as time-stamped discussion prompts or comprehension questions, and monitor student progress when watching a video. 
Meeting College Board Requirements
For detailed information on how to create an account with the College Board, complete the AP Audit process, and set up access to AP Classroom, please review the Getting Started module in our curriculum.
AP Classroom provides a wide variety of resources for educators to track student progress and provide opportunities for student formative self-assessment. Each lesson plan in the UTeach CS curriculum includes AP alignment and suggestions for teachers to assign formative topic questions from the AP Classroom. Unit Tests can be created using the summative filter. Additionally, the curriculum includes AP-style tests and extensive test banks are available to help teachers prepare students for end-of-course exams. 
Create Performance Task Module: The curriculum for UTeach CS Principles includes an extensive module to scaffold students throughout the Create Performance Task, including planning handouts and project examples.
Staying up to date: As further updates become available throughout the year, the College Board will post to their website: https://collegeboard.org/ap-covid19-updates. 
Addressing Technology Limitations
All materials in the UTeach CS curriculum are accessible from any mobile or desktop device. The online integrated development environments for our courses can be accessed via desktop browsers, Chromebooks, or other tablets (not iPads). Complete technical specifications can be accessed on our website: 
For students with limited internet connectivity, we provide an offline PDF, which is available through our Teacher course materials.
We recommend working closely with your school and district to ensure all students have access to the technology required for this course.
Ongoing Support
As a reminder, UTeach CS offers a variety of support options throughout the year to teachers with current licenses, whether you are teaching remotely or in-person:
Email: Email us through our Canvas support request form or directly at support@uteachcs.zendesk.com. 
1-on-1: Schedule a 1-on-1 call with our teacher support specialist through Canvas.
Teacher Community: Join the professional learning community on Facebook to share ideas and best practices with other UTeach CS teachers.
Webinars: View the recording of our webinar on "Adapting UTeach CS to Your Virtual or Hybrid Classroom" and look for announcements of upcoming webinars on our website, social media, or monthly newsletters. 
Remote Teaching Video Series: Subscribe to our YouTube channel to catch videos as they're released.
Getting Started Module: In the UTeach Teacher Canvas, the Getting Started Module provides videos and step-by-step instructions for setting up accounts and learning how to navigate the Canvas platform for our materials.