Table of Contents:
Interested in funding for AP CS A?
Request funding details to learn how to get $2,000 teacher stipends, free professional development ($1,000 value), and two years of free access to UTeach AP Computer Science A ($1,600 value), including the project-based curriculum, Codio platform access, and on-demand teacher support.
Upcoming SEED Grant: 2022-23 AP CS A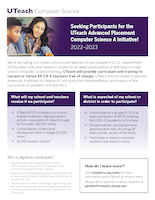 We're recruiting U.S. schools and teachers to participate in a U.S. Department of Education Supporting Effective Educator Development (SEED) grant, starting in 2022-23! View Flyer. 
 
UTeach will provide free training, curriculum, and ongoing support to current or future AP CS A teachers for two years, along with a teacher stipend. UTeach and its research partner, American Institutes for Research (AIR), will study the implementation and impact of the curriculum on students and teachers in the first year of the project.
 
This project aims to 1) increase the number of highly qualified computer science teachers in schools and 2) broaden participation of underrepresented students in CS through project-based curriculum. The study will provide information to participating districts about the effectiveness of the UTeach CSA curriculum with training and support, and it will help districts expand CS course offerings to high school students by providing free CSA curriculum.
What will my school and teachers receive if we participate?
Two years of free access to the UTeach AP Computer Science A curriculum and ongoing teacher support ($1,600+ value), including comprehensive teacher materials, interactive student textbook, and built-in programming environments on the cloud-based Codio platform
Free online professional development ($1,000 value), which is College Board–endorsed, or a shorter platform training for experienced AP CSA teachers 
Up to $2,000 teacher stipends for participating in all study activities
Which schools are eligible to participate?
All U.S. public and private schools are eligible, with high-needs designated schools given priority in the selection process.
Schools must offer at least one section of AP Computer Science A in the 2022-23 academic year to participate, and a minimum of 10 students is highly encouraged
Schools must agree to provide teacher- and student-level administrative data, including AP exam scores, and to participate in research activities related to the research study
Which teachers are eligible to participate? Any of the following:
U.S. teachers who have taught with the UTeach CS Principles curriculum for 1-2 years and are comfortable programming in Python
U.S. teachers with extensive experience teaching AP CSA or Java programming (these teachers may opt out of the 35-hour UTeach CSA professional development)
U.S. teachers who are new to teaching computer programming are welcome to participate and are highly encouraged to complete a free online Java course in addition to the UTeach CSA professional development
How do I learn more?
Request grant details to receive the full participation details, ask questions, or schedule a meeting to learn more
Ready to join this research grant?
Submit this application! After your application has been reviewed, eligible districts/schools will receive the memorandum of understanding (MOU) via Docusign
Previous SEED Grant: 2020-21 AP CS Principles
For information about the previous SEED grant for AP CS Principles in 2020-21, click here.